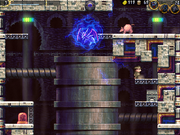 Thunderbird is a Sub-Boss in the Tower of Ruin. It circles around the room, and periodically charges the area around itself with an electric shield that blocks attacks. If Lemeza is knocked down into (D-5), Thunderbird will reform and start again with full health.
Fighting Thunderbird
Edit
Thunderbird will fire three lightning bolts, aimed at Lemeza
Thunderbird will deviate from its circling pattern and fly straight toward Lemeza
Weak Point
Edit
Body, when not surrounded by blue electricity
Strategies
Edit
Ad blocker interference detected!
Wikia is a free-to-use site that makes money from advertising. We have a modified experience for viewers using ad blockers

Wikia is not accessible if you've made further modifications. Remove the custom ad blocker rule(s) and the page will load as expected.