Prove Thou Art Big!
This page may contain a thumbnail image, but doesn't have the full-size version.
Please contribute a full screenshot! (apprx 640x480)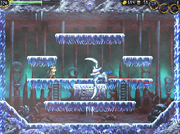 Kamaitachi is the Sub-Boss of the Graveyard of the Giants. It is a flying weasel with sickle-shaped forearms. It will teleport to keep its distance from Lemeza.
Fighting Kamaitachi
Edit
When Lemeza is far from it, Kamaitachi will dive at him and slash with its sickles
When Lemeza is near by, Kamaitachi will create
Weak Point
Edit
Its body
Strategies
Edit
Rush at Kamaitachi and attack with your melee weapon while avoiding the air discs.
In Japanese folklore, the kamaitachi were yōkai, or monsters, personified as a trio of sickle-wielding weasels. They would ride on the winds and lash the legs of humans with scythes or cutters. --[Wikipedia]
Ad blocker interference detected!
Wikia is a free-to-use site that makes money from advertising. We have a modified experience for viewers using ad blockers

Wikia is not accessible if you've made further modifications. Remove the custom ad blocker rule(s) and the page will load as expected.